HubSpot for Nonprofits: Brilliant Ways to Market and Generate More Donations
This is a guest blog by by Luke Summerfield. He consults at Savvy Panda, writes for websites like this and speaks at conferences across the nation.
HubSpot Marketing for Nonprofits
If you're like most nonprofit organizations, you're probably overloaded with tasks and wearing multiple hats. So how can you as an nonprofit marketer effectively reach your donation, volunteer and awareness goals with so much going on?
Luckily technology is making it easier than ever to do more marketing with less resources. In today's blog we will take a look at some brilliant ways nonprofits are using a marketing tool called HubSpot to do exactly that.
What is HubSpot?
For those of you who are not familiar, HubSpot is an all-in-one marketing platform designed specifically for marketers. More and more nonprofits are adopting the HubSpot platform to run their marketing efforts and donor databasing.
The collection of marketing tools in the HubSpot platform include:
● Website CMS with easy landing page creator
● Blogging platform
● Email marketing tool
● Social media marketing tool
● Marketing automation workflows tool
● Contact databasing and segmenting
● Reporting tool
The best part is all of these tools were created with the marketer in mind, meaning there is little to no technical experience required. You can manage and run everything from their user-friendly backend interface.
More Advanced HubSpot Marketing for Nonprofits
HubSpot also has a number of more advanced features that can really help take your nonprofit marketing to the next level. Let's take a look at just a few of the many brilliant ways to leverage the power of HubSpot to boost your nonprofit efforts.
Hubspot Marketing Tool #1: Donor Segmentation
Segmenting your donors on various criteria is a critical part of a successful nonprofit marketing and fundraising effort. Different donors have different triggers that get them to donate money to your cause. By segmenting your donor lists based on criteria like reasons for giving, frequency of giving, or campaign donated to, you will be able to tailor your messaging and see a your marketing make a bigger impact.
HubSpot marketing makes it extremely easy to segment your donor database and keep it up to date. This is all done in the "Lists" tool in the HubSpot platform. The lists are created by adding or collecting contact properties for the donor. Because these can be custom created and/or pulled from other systems, the options are nearly endless.
Here are some examples of creative segmenting for your donor lists:
● Communication preference: E-mail, Mail, Phone, etc.
● How influential donors are on social media – This can be done based on Twitter follower counts and API access into social tools like Followerwonk
● Segment based on common triggers that spark a donation – This information will have to be collected on a form at some point
● Donor score – HubSpot will let you setup "lead scoring" which you can create criteria such as donation size, frequency, website visits, etc. to score each donor. Then create a list of your best donors
● Frequency of donations
● Campaign or cause that they donated to
● Size of donation
Because HubSpot collects so much information about your audience, you really can segment based on almost limitless criteria. Below we will explore some of the other brilliant marketing tactics you can implement once you have these segmented lists.
Hubspot Marketing Tool #2: Donor Workflows
The workflow tool is probably one of the most powerful tools in the HubSpot toolset. The workflow tool makes all the marketing automation happen. You can automatically send out emails, change contact properties, organize donors into lists and much more. These workflows are typically set up to target a specific donor segmented lists.
Here are some examples of some creative workflows that a nonprofit can leverage to boost their marketing efforts.
IF: A previous donor returns to the website for more than X minutes or views a specific page on the website…
THAN:…automatically send them a follow up email to encourage them to donate again or inform them of our current campaigns.
IF: A previous volunteer views any of our upcoming events…
THAN:…send them a personalized invitation to volunteer at the event
IF: A donor in our system visits a specific webpage (from a bulk mailing) and does not make a donation…
THAN:…notify our donations team for a phone call follow up
IF: The contact has been historically donating every six months, but has not donated in the previous 6 months…
THAN:…send them an email and notify our team to send them a care package.
IF: Someone starts making a donation but does not complete the transaction and never visits the thank you page…
THAN:…enroll them in a short series of automated emails to encourage them to come back and complete their donation. Also notify our fundraising team to follow up with a phone call.
HubSpot Marketing Tool #3: Tailored, Smart Content
The second most powerful tool within HubSpot, in my opinion, is their "Smart Content" feature. This feature will allow nonprofit marketers to dynamically change the content, messaging, images and videos based on which segmented list a visitor sits within.
Example of Smart Content:
Let's suppose your organization has missions all over the world to help children in developing nations learn how to read.
A donor made a donation in the past and identified that they were specifically interested in helping your missions in Northern Africa.
If we know this information, the donor will be segmented into a "Northern Africa" list and the next time they return to the website, HubSpot can dynamically change all the images, videos, text and call to actions tailored to the Northern Africa mission.
Your organization can highlight the new campaigns that are going on in that region, specifically, and engage the donor on a whole new level with content they are very interested in.
By tailoring your content around the interests of a particular group, you're more likely to engage them and spark action. This results in overall better success in reaching your goals.
HubSpot Marketing Tool #4: Social Inbox
Once you have your contacts (donors, volunteers, e-mail subscribers, etc.) segmented in HubSpot, you can pull those segmented lists into the "Social Inbox" tool. This is where you can manage all of your social media interactions.
These segmented lists will be pulled into their own stream where you can see all the social media activity of those users in that list.
This allows you to very easily interact, engage and build relationships with all those key contacts in your contact database. You can create lists based on various campaigns they donated to, events they volunteered at or even based on pages people have viewed on your site.
Additionally, you can setup alerts for each stream for whenever one of those contacts makes a social media post that has a specific keyword or mention of your organization of cause. You can easily respond or engage that user about their post, as soon as you get a notification.
All of this will allow you to have a solid social media engagement strategy even with limited resources and staff. Because it's all integrated into one platform, you can directly tie your social media efforts into the impact it has on donations and volunteers.
HubSpot Marketing Tool #5: Sponsor Prospecting Tool
Another useful marketing tool in HubSpot is their prospecting tool. This tool will show you the name and information of all the businesses visiting your website.
It essentially hands you a list of the top businesses visiting your website on a regular basis. This information can be extremely valuable for your sponsor outreach program so they can reach out to those businesses about sponsoring your organization's event.
Because we know someone from their business has visited our website and is familiar with our organization, there is a much higher chance they would be interested in learning more about how they can get involved.
These are just a handful of the almost limitless HubSpot marketing tools for nonprofits. Ultimately, it's all about finding creative and outside the box ways to best engage your audience to help drive, and reach, your organization's goals.
If you have questions or other ideas, please post in the comments section below. I'd love to get a discussion going.

---
Have an Idea for a Fundraising Campaign?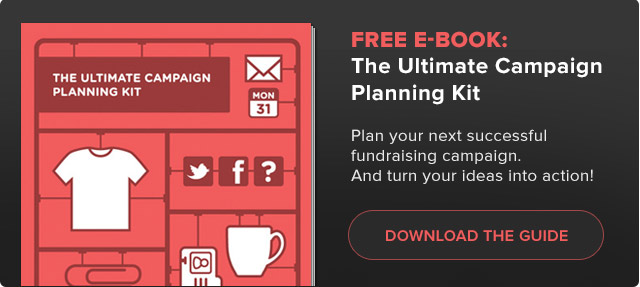 The Nonprofit Growth Guide
Subscribe to the Classy Blog
Get the latest fundraising tips, trends, and ideas in your inbox.
Thank you for subscribing
You signed up for emails from Classy